RWRF Webinars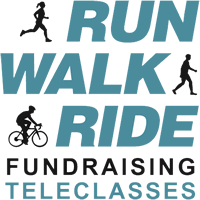 Now you can learn from the athletic event fundraising masters without leaving your desk.
Each quarter RWRFC Webinars bring the sharpest players into your office to share valuable advice that will help you create stronger programs.
It's easy. All you need is a computer to connect with the best and brightest.
It's a great value. Most RWRFC webinars are $99 or less. (RWRFC members attend certain sessions free and receive discounted admission to others.) In just one hour, you'll pick up valuable information from top experts at a very reasonable price.
It's convenient. Each one-hour class is structured to share practical tips that you can put right to work. If a webinar doesn't fit with your schedule (or you'd like to review the material), you have unlimited access to a recording for 30 days after the live session.
It's interactive. We make it easy to send questions to the speaker during each webinar.
Upcoming Webinars include
RWR Sponsored Webinar:
Is the Traditional Charity Walk on Life Support?

When: Thursday, November 14, 2013
Leader: Eventage's Matt Glass and Make-A-Wish America's Christie Madsen
Price: FREE (sponsored by Eventage)
Reserve your space now | Read more